Need a tried and true blueberry muffin recipe? I have been making this version of Emerl's Blueberry Muffins for years. They are easy and delicious!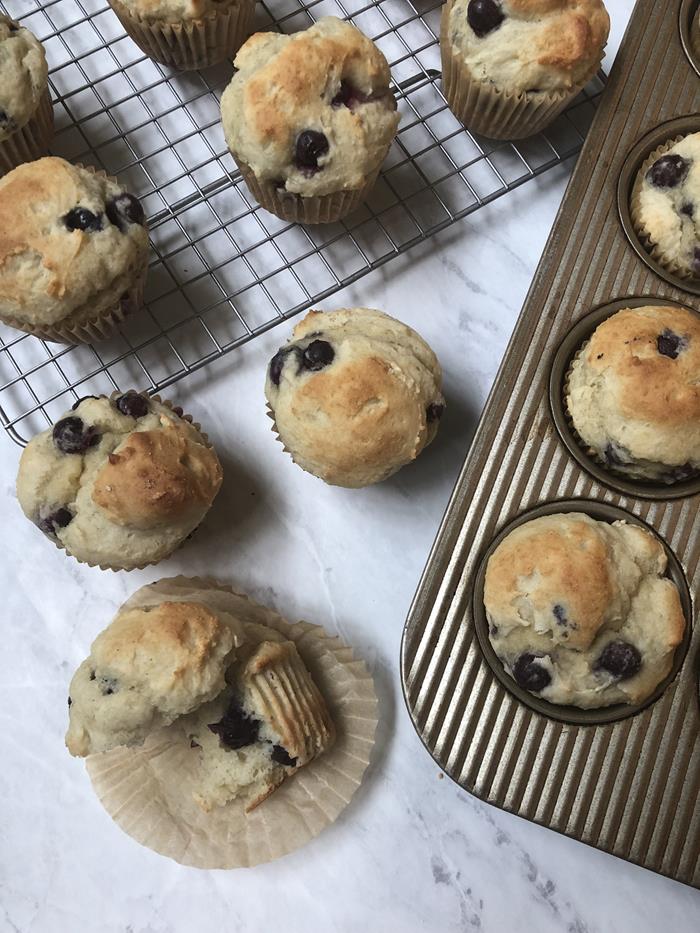 Do you remember Emeril from the Food Network? I clearly remember the early days of the Food Network when Emeril was one of the star chefs. I am pretty sure that shows my age because that was about twenty five years ago.
I kind of miss the old Food Network days when it was less about reality cooking shows and more about how to actually cook.
The trend now is the attention grabbing competition type shows or the shows that highlight different places and restaurants. There is nothing wrong with those shows, but I think we have lost some of the basics of cooking that I miss.
Food can be quick and easy to make. It can be good food using basic ingredients.
Now if you remember the days of Emeril's show you know that he often used special ingredients or more gourmet items, but he also shared a lot of basic recipes.
I still make the homemade version of Emeril's Baby Bam Seasoning. It is one of my favorite all purpose seasoning recipes that works for chicken, pork, beef, oven potatoes, and more.
I have quite a few of his other recipes that I have made for years because they are basic recipes that are delicious.
The first time I made his blueberry muffin recipe was on a trip to Oregon back in 2008. I was staying with my sister and we had some blueberries that needed used up.
I looked through her cookbooks and found a recipe for Emeril's blueberry muffins in one of her Emeril kids cookbook. I think the actually name was Emeri's Mile High Blueberry Muffins. It looked easy and she had all of the ingredients that I needed so I gave the recipe a try.
The muffins were delicious and we all enjoyed them, well at least those of us who like blueberries enjoyed them. I came back home and shared the recipe with my readers.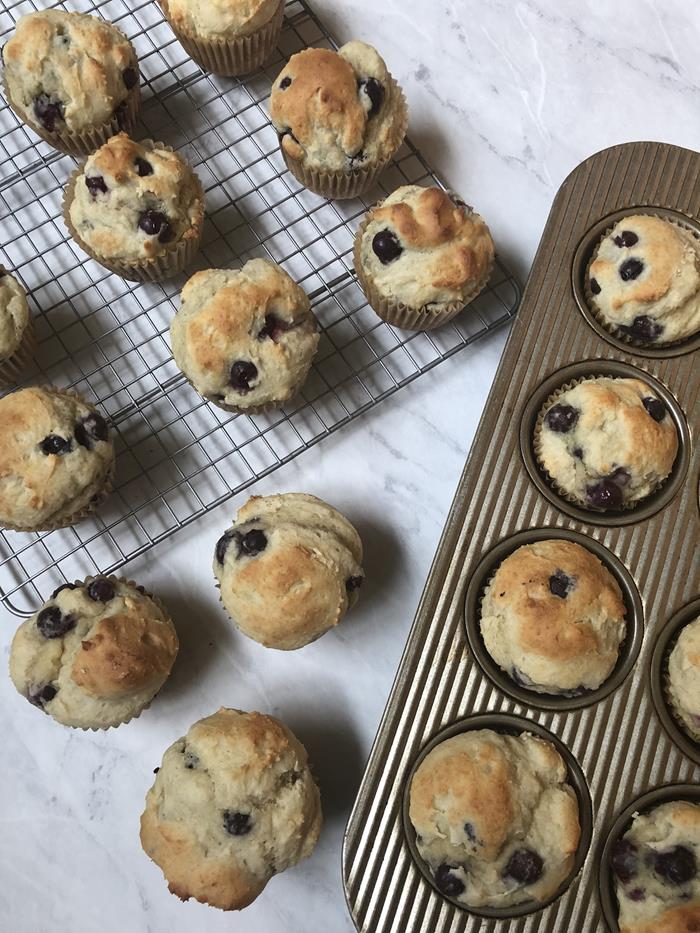 That was back during my first year of blogging. It before I was even gluten free. It was time to update that old recipe and post.
The recipe is the same basic Emeril Blueberry Muffin Recipe with a few changes that I have made over the years. The pictures are updated and I also changed up the directions a little to simplify them.
Since I now eat gluten free you might be wondering if these be made gluten free? I recently made these gluten free using Bob's Red Mill Gluten Free Flour Blend and they were really good. The texture was slightly different, but they were still delicious.
If you love blueberries as much as my family does you might enjoy one of these easy blueberry recipes.
Yield: 12 muffins
Emeril's Blueberry Muffins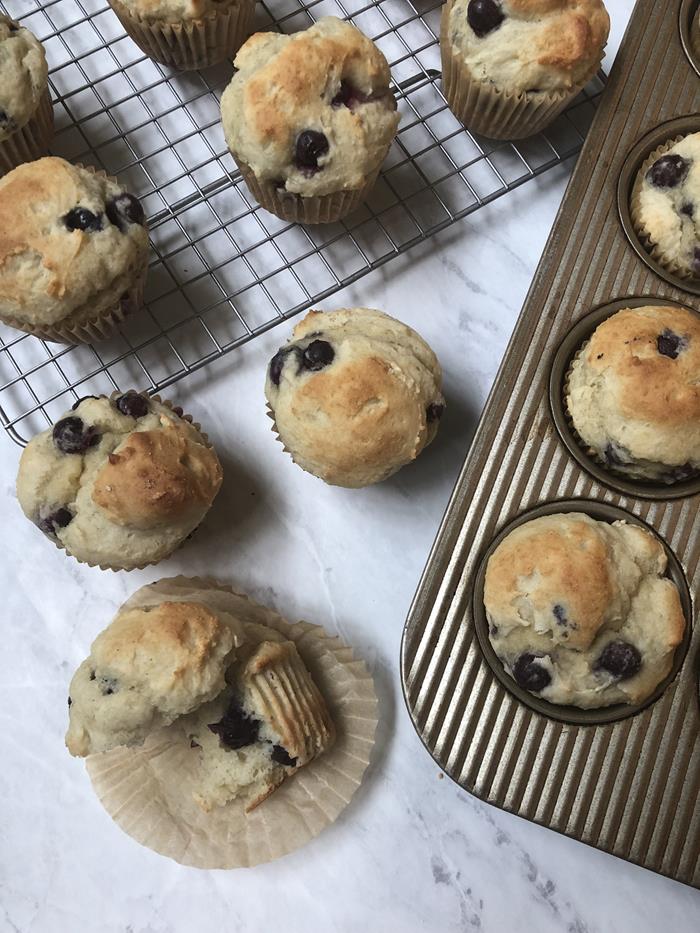 Emeril's Blueberry Muffins are an easy and delicious blueberry muffin.
Ingredients
2 cups all-purpose flour ( gluten free directions below)
1/2 cup sugar
1 1/2 teaspoons baking powder
1/2 teaspoon baking soda
1/2 teaspoon salt
2/3 cup plain yogurt or sour cream
2 large eggs
2 tablespoons melted butter
1/2 cup milk
1 cup fresh or frozen blueberries
Instructions
Preheat the oven to 350. Line a 12-muffin tin with 12 paper muffin-tin liners or grease well.
In a bowl combine flour sugar, baking powder, baking soda, and salt into a medium mixing bowl. Set aside.
In a large mixing bowl, whisk together the yogurt, eggs, butter, and milk.
Add the dry ingredients to the yogurt mixture and stir just until combined, being careful not to over mix this.
Fold the blueberries into the batter, again being careful not to over mix.
Divide the batter evenly among the muffin cups filling each about 3/4 full.
Bake about 20 minutes or until toothpick inserted into the center comes out clean.
Remove the muffins from the oven and let cool in the tin for 5 minutes then cool on wire rack.
Notes
For a gluten free version use Bob's Red Mill 1 to 1 Gluten Free Flour Blend.
First published August 2008. Updated July 2019.