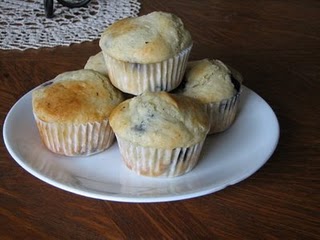 I made this recipe for the first time when I was in Oregon last month. I was staying with my sister and we had some blueberries that needed used up. I looked through her cookbooks and found a recipe for blueberry muffins in one of her Emeril kids cookbook. It looked easy and she had all of the ingredients that I needed so I gave the recipe a try.
I am so glad I did. They were really good. We all enjoyed them, well at least those of us who like blueberries enjoyed them. I think you could change this recipe by using frozen raspberries and it would also be good.
I made these again yesterday and used frozen blueberries. They were really good but I think they were a little better with the fresh Oregon Blueberries but fresh usually is better. I will be making these though a lot with frozen berries since my kids love blueberries. Please remember that with muffins you need to be careful not to over mix. If you you want light muffins you need to stir just until combined.
Emeril's Mile High Blueberry Muffins
2 cups all-purpose flour
1/2 cup sugar
1 1/2 teaspoons baking powder
1/2 teaspoon baking soda
1/2 teaspoon salt
2/3 cup plain yogurt
2 large eggs
2 tablespoons melted butter
2 teaspoons grated lemon zest (I have left this out every time because I did not have it)
1 cup fresh or thawed frozen blueberries
1/2 cup milk
Preheat the oven to 350. Line a 12-muffin tin with 12 paper muffin-tin liners. Sift the flour, sugar, baking powder, baking soda, and salt into a medium mixing bowl. In a large mixing bowl, whisk together the yogurt, eggs, butter, and lemon zest. Add the dry ingredients to the yogurt mixture and whisk just until combined, being careful not to over mix. Using a rubber spatula, gently fold the blueberries into the batter, again being careful not to over mix. Divide the batter evenly among the muffin cups. Bake in the oven until puffed up and golden brown, about 20 to 22 minutes. Remove the muffins from the oven and let cool in the tin for 5 minutes before turning out onto a wire rack. Serve warm.