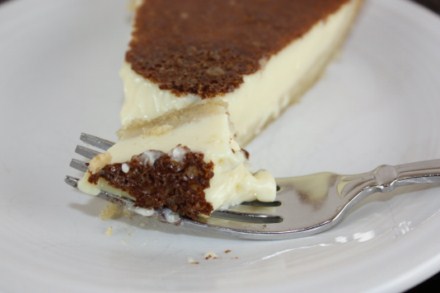 Custard pie is a perfect old fashioned dessert. It is easy and frugal, yet very good.
Like regular custard, this custard pie contains normal everyday ingredients. There is nothing fancy in this pie. It is basically a custard, baked in a pie shell.
My family loves this pie. I would enjoy this with nutmeg, but since my husband does not like nutmeg, I use cinnamon. If you like nutmeg, I suggest you use 1 teaspoon of nutmeg in place of the cinnamon.
Have any of you ever made or had custard pie?

Custard Pie
Pastry for single pie ( I suggest using 1/2 of my favorite pie crust)
4 eggs
2-1/2 cups milk
1/2 cup sugar
1 teaspoon cinnamon
1 teaspoon vanilla extract
1/2 teaspoon salt
Place pie crust into a 9 inch pie plate. Bake at 400° for 10 minutes.In a large bowl, beat eggs. Add remaining ingredients and mix well. Pour into the prebaked crust. Bake for 20-25 minutes or until a knife inserted near the center comes out clean. Cool for 1 hour. I like this pie at room temperature and my husband likes it cold. So serve it how you like it. Refrigerate leftovers.
For more frugal ideas and recipes see
Frugal Fridays
and
Grocery Cart Challenge
.