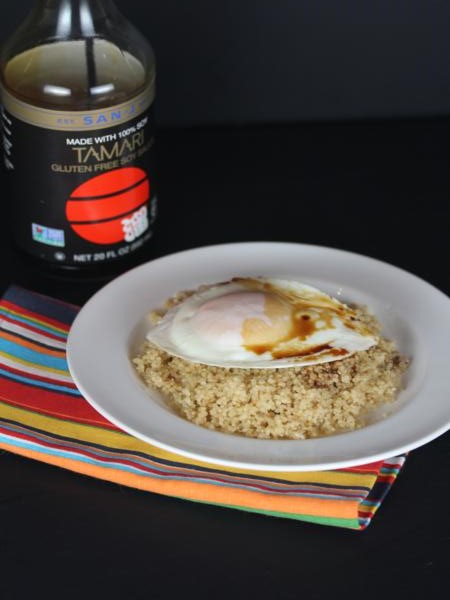 Earlier this week I talked about quick and easy cooking that is budget friendly and at least semi healthy. Eggs and soy sauce over quinoa is one of my new favorite meals that fits into that category.
You cannot get much easier than this meal. Eggs are an incredibly inexpensive source of protein and quinoa is a healthy grain. It easily fits my goals for a meal.
My family has been eating eggs and soy sauce over rice for years. It is one of our favorite breakfast for dinner type meals. Serving it over quinoa came about a few months ago when I was making dinner for myself.
My husband and kids take karate one night a week. This leaves me all by myself one night week.
Everyone usually grabs something quick for dinner like leftovers or sandwiches before they leave, so it has become my one night off cooking each week and I love it.
The problem is that when I don't have to cook, I tend to not eat, or at least not eat a full meal. I snack or eat a bowl of cereal instead, which means I don't have to cook, but it does not make for a very filling meal.
One day I was cooking quinoa for another recipe, I think it was my quinoa brownies, and I decided to make some extra to eat for dinner. I had originally thought about eating some vegetables with it, but for some reason an egg for dinner sounded better. I decided to serve the egg like we do over rice and I loved it.
It was easy, delicious, and healthy!
Now to me this is a meal in and of itself. My family likes meat added to it, which you can easily do by adding some sausage or bacon on the side without adding too much to the cost of the meal.
I like just soy sauce on this to give it some flavor, but my husband also adds some sriracha hot sauce to his also.
Eggs and Soy Sauce Over Quinoa
Serve cooked egg over quinoa and drizzle with soy sauce