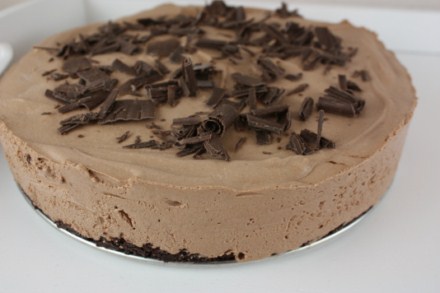 If you like chocolate as much as I do, than you will love this Frozen Chocolate Mousse. It is so creamy and good.
Not only is this dessert really good it is so easy to make. You really cannot get a summer dessert that goes together easier than this one does.
This is perfect for summertime, but really this will work anytime of year. I hope you enjoy!
Frozen Chocolate Mousse
12 oreo cookies, crushed ( I used gluten free chocolate cookies)
¼ cup Butter or margarine, melted
2  – 8 ounce packages cream cheese
1 can(14-ounces) sweetened condensed milk
1 cup chocolate chips
2 teaspoons butter
8 ounces cool whip
garnish with chocolate if desired
Mix cookie crumbs and butter and press into a 9 inch pie pan. I used a cheesecake pan and it worked great. I would use a cheesecake pan if you have one.
Beat cream cheese in large bowl with mixer until creamy. Gradually beat in sweetened condensed milk.
Melt chocolate chips with teaspoons butter until smooth.
Add to cream cheese mixture.
Fold in whipped topping.
Carefully spoon over crust.
Freeze for 4- 6 hours.
Remove from freezer 15 minutes before serving. Cut into squares.
Garnish with chocolate if desired.