Gluten free dairy free apple bread that is so good no one will know that it is gluten and dairy free!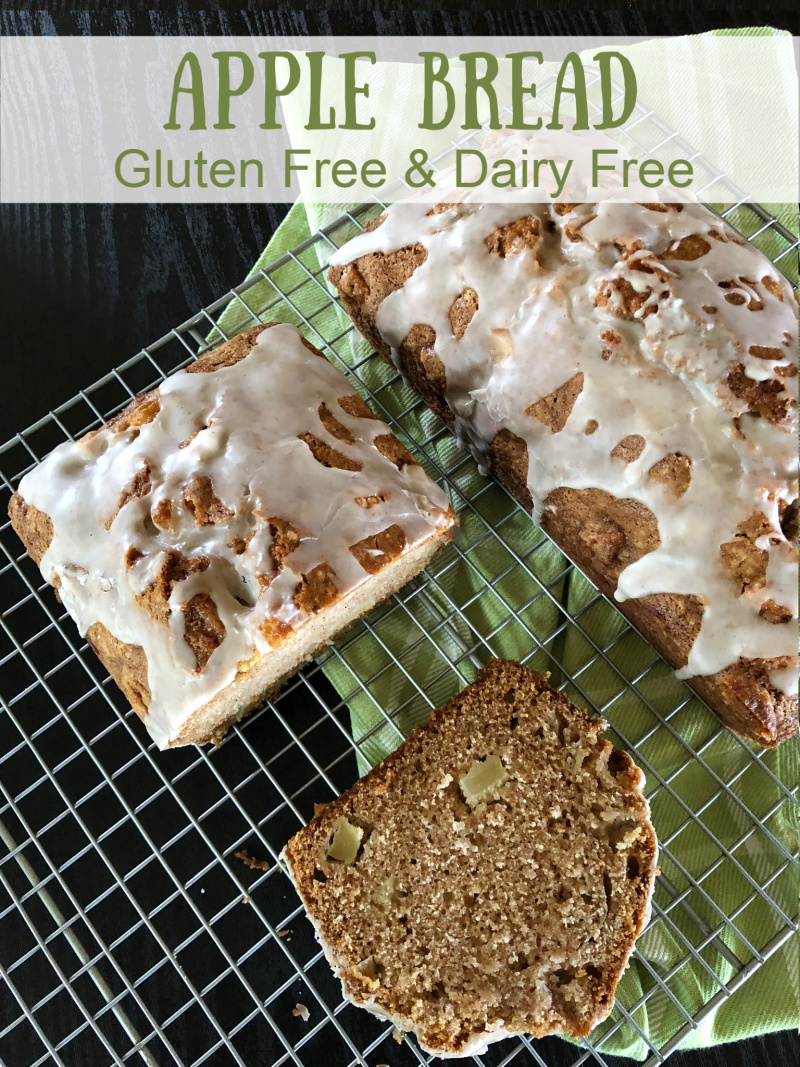 Gluten free baking can be challenging, but I love a good challenge! I also love to share recipes that are so good no one will know that they are gluten free.
This recipe actually combines two of my favorite type of recipes to come up with. It is gluten free and dairy free. It is also delicious!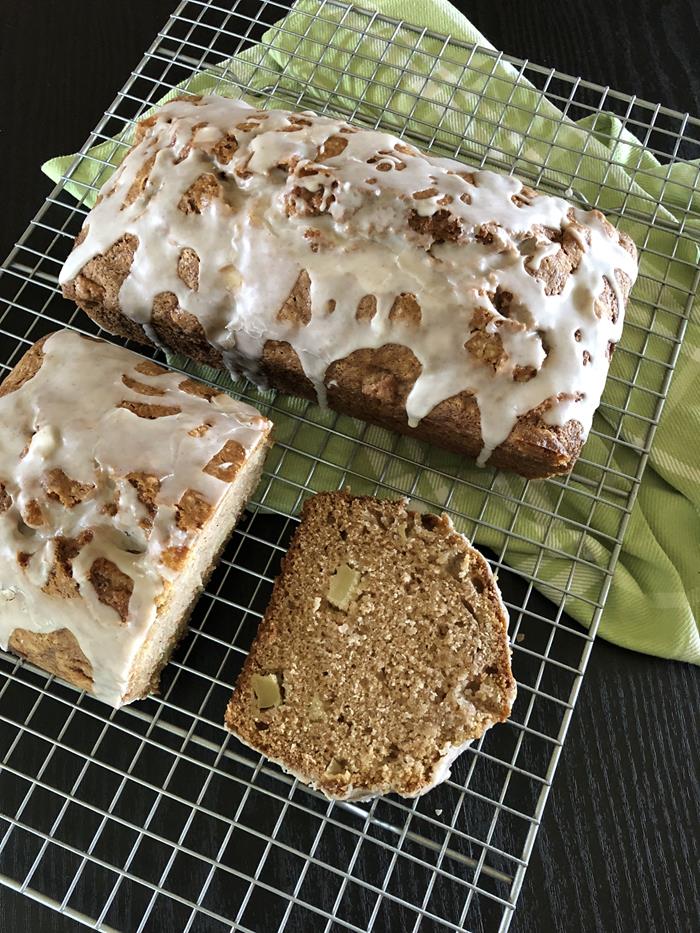 I sent this bread to a meeting that my husband had and no one in the group needed to eat gluten free or dairy free and everyone enjoyed it. One person even requested the recipe.
When regular eaters love my gluten free recipes I know that I have a winner!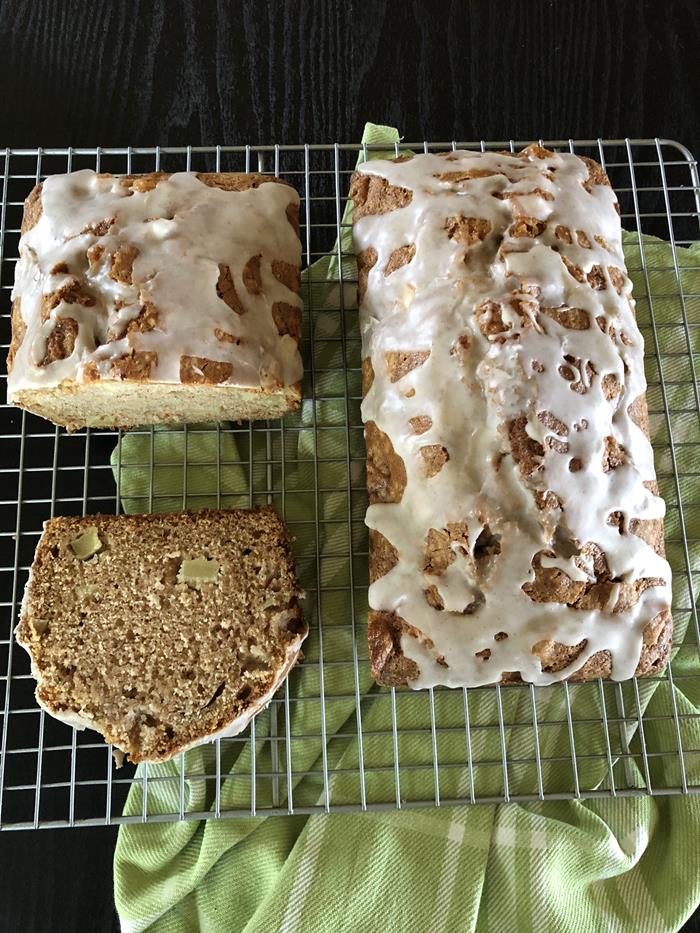 This bread is perfect for fall, but it is one of those recipes that is delicious all year long.
Can you freeze apple bread?
Quick breads like this freeze well. You can bake the bread, let it cool, wrap it well, and freeze it. Or you can bake it, let it cool, slice it, and then wrap and freeze the individual pieces for easy lunches, snacks, or desserts.
Can I use a gluten free flour blend in place of the individual gluten free flours?
The answer to that is yes, but you might not get the same results. When I develop a recipe like this I try several different combinations and ingredients. This specific bread took four tries to get the right combination of gluten free flours to get the results I was happy with.
So yes a gluten free flour blend will probably work in place of the individual flours and xanthan gum, but for the best results use the individual gluten free flours.
Need some more gluten free apple recipes?
Now for the recipe!
Yield: 2 loaves
Gluten Free Dairy Free Apple Bread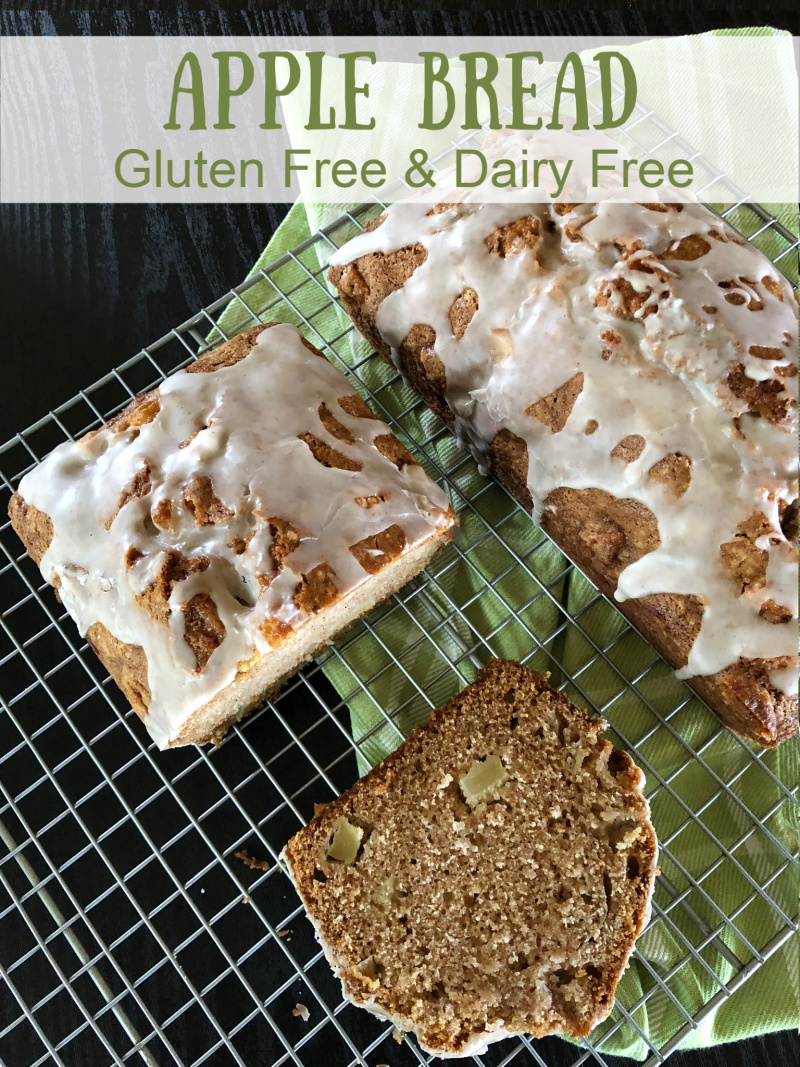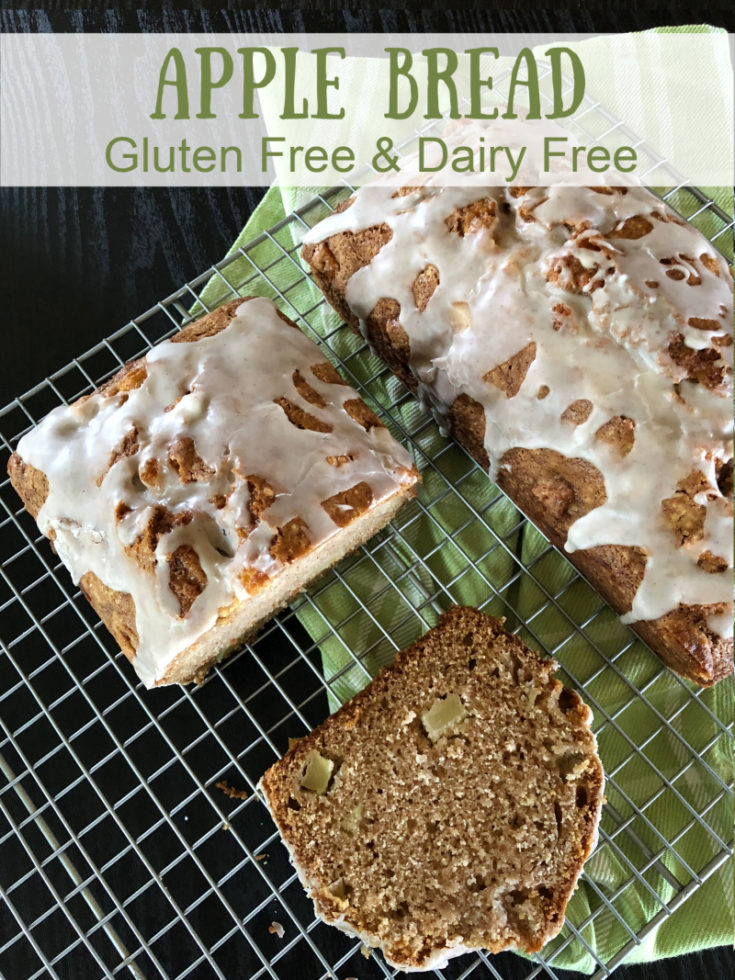 Gluten free dairy free apple bread that is so good no one will know that it is gluten and dairy free.
Total Time
1 hour
5 minutes
Ingredients
1 1/2 cups white rice flour
3/4 cup potato starch
3/4 cup tapioca starch
3/4 teaspoon xanthan gum
1 cup sugar
1 cup brown sugar
2 teaspoons ground cinnamon
1 teaspoon baking soda
1/2 teaspoon baking powder
1/2 teaspoon salt
4 eggs
1/2 cup oil
1/2 cup applesauce
1/2 teaspoon vanilla extract
2 1/2 cups chopped and peeled apples ( Granny smith, Jonathan, or other tart apple)
1 cup nuts chopped nuts ( Mine did not have nuts in it)
Instructions
Preheat oven to 350 degrees.
Grease two loaf pans and set aside.
In a bowl combine white rice flour, potato starch, tapioca starch, xanthan gum, sugars, cinnamon, baking soda, baking powder, and salt.
In another bowl whisk together eggs, oil, applesauce, and vanilla.
Stir egg mixture into flour mixture. Stir just until combined and smooth.
Stir in apples (and nuts if using)
Divide batter evenly between pans.
Bake for 50-55 minutes or until toothpick inserted into the center comes out clean.
Let cool in pan for 5-10 minutes.
Remove to cooling rack to finish cooling.
Notes
For an optional glaze whisk together 1 1/2 cups powdered sugar, 1 1/2 tablespoons water, and 1/2 teaspoon cinnamon. Add 1/2 tablespoon or so more water if needed. Drizzle glaze over cooled bread.
This bread freezes well. Freeze as a full loaf or slice and freeze.