Crustless Spinach Quiche is easy to make for breakfast, lunch, or dinner. It is also normal food that happens to be gluten free!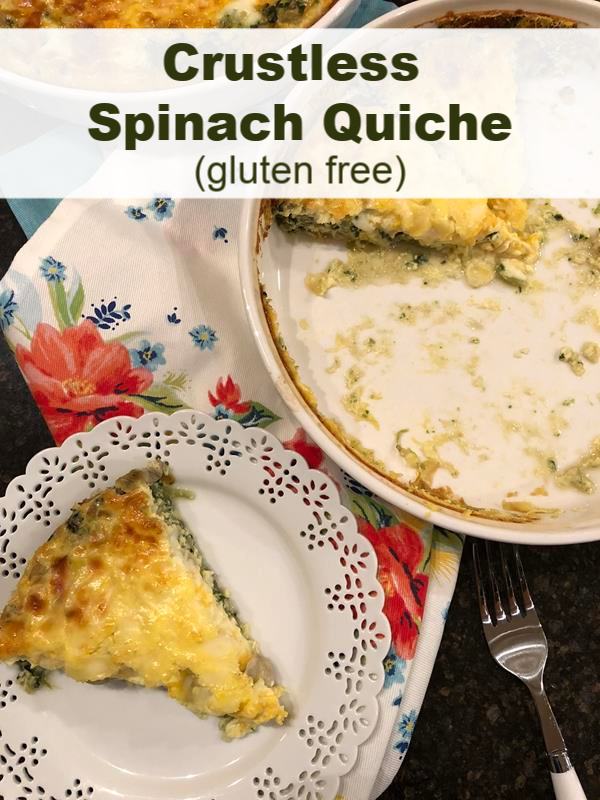 Need an easy recipe that works well for breakfast, lunch, or dinner? Try quiche. More specifically try this easy crustless spinach quiche.
One of the great things about quiche is that you can change it up. I have several quiche recipes that I have shared over the years. (Links for my other quiche recipes are below. Scroll down for them.)
A quiche can be meatless or cooked bacon, sausage, or ham can be added. Quiche can also contain vegetables like spinach, broccoli, onions, or tomatoes.
You can change up the cheese too. Mozzarella, cheddar, Colby Jack, and many other cheeses work well in quiche. Use what you like or what you have on hand.
Once you have a basic quiche recipe that you love, like this crustless one, it is easy to change up the other ingredients.
Why Do I Make Crustless Quiche?
You might be wondering why I make many of my quiches crustless. The main reason is that I like them better. I love pie crust for pies, but for quiches I have found that I prefer no crust.
A crustless quiche also makes it gluten free. Or at least it makes most quiches gluten free. I love my gluten free pie crust recipe and it would work well for a quiche crust, but again I prefer it without the crust.
Leaving the crust off also saves fat and calories. You will find a lot of high calorie high fat recipes on my site, but when it comes to quiche I would rather have that fat and calories in the ingredients not the crust.
When I make it crustless I don't feel bad about making a cheesy filling or using heavy cream.
Can Quiche Be Made Ahead?
Yes, quiche is great made ahead and reheated. I make it this way all the time. I almost always make several quiches and then we reheat them for breakfast and lunches the next few days. Bake as directed, let cool, store it in the refrigerator, and reheat when needed.
Can I Add a Crust to a Crustless Quiche?
Yes, just use your favorite pie crust recipe or quiche crust recipe.
Are Frittatas and Crustless Quiches the Same?
Frittatas and crustless quiches are similar, but not exactly the same. Many people use them to describe the same dish though.
Both frittatas and crustless quiches have no crust. A crustless quiche has more of a egg custard for the filling while frittatas tends to have a more hearty filling with more ingredients.
There is also often a difference in how they are cooked. Frittatas are often started on the stove and finished in the oven. Crustless quiches are usually just baked in the oven.
Love quiche? Here are some more quiche recipes: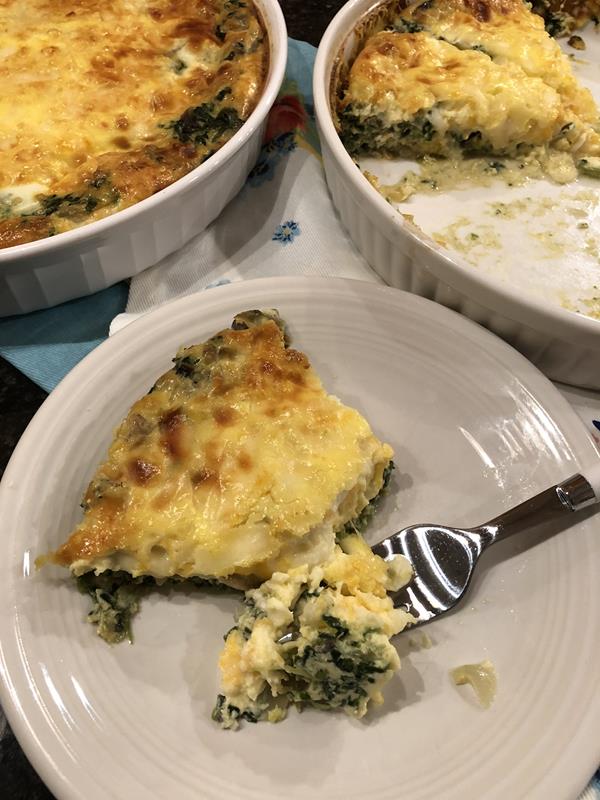 Yield: 2 quiches
Crustless Spinach Quiche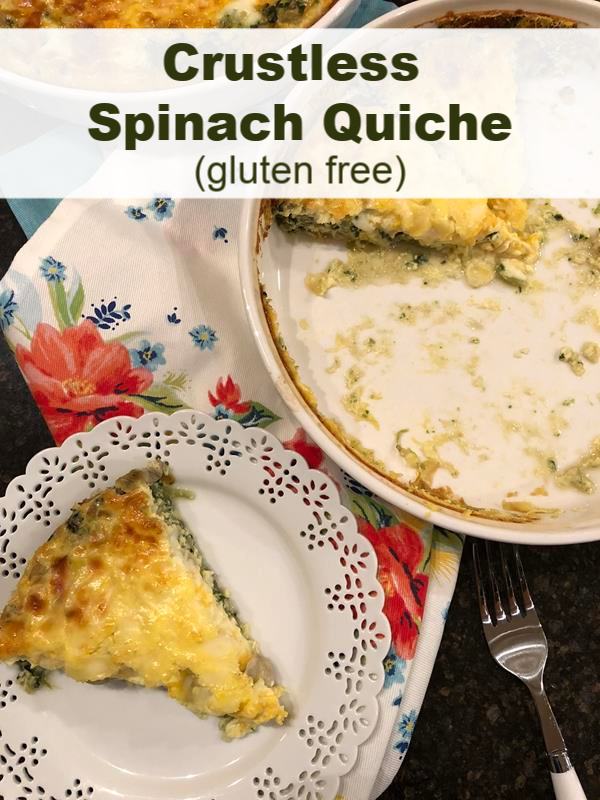 Crustless Spinach Quiche is an easy breakfast, lunch, or dinner recipe.
Ingredients
2 tablespoons oil
1 onion, chopped
8 ounces sliced mushrooms
9 ounce package frozen spinach, thawed and drained ( or similar sized package)
12 eggs
1 cup heavy cream
1 1/4 cups milk
1 cup shredded mozzarella cheese
1 1/4 cups shredded cheddar cheese, divided
1 teaspoon salt
1/4 teaspoon pepper
Instructions
Preheat oven to 350 degrees.
Grease two pie plates or similar type shallow casserole dish.
Heat oil in a skillet or pan over medium high heat.
Add onion and mushrooms and cook until tender.
Add spinach and cook until any excess moisture is evaporated. This takes 2-3 minutes.
Divide spinach mixture between the two prepared pie plates. Set aside.
In a large bowl combine eggs, whipping cream, and milk. Whisk until combined.
Stir in mozzarella cheese, 1/2 cup cheddar cheese, salt, and pepper.
Pour over spinach, dividing evenly.
Sprinkle with remaining cheese.
Bake for 45-50 minutes or until center is set.
Let cook five minutes before cutting.
Serve and enjoy!
Nutrition Information:
Yield:
12
Serving Size:
1
Amount Per Serving:
Calories:

258
Total Fat:

20g
Saturated Fat:

10g
Trans Fat:

0g
Unsaturated Fat:

9g
Cholesterol:

227mg
Sodium:

413mg
Carbohydrates:

6g
Fiber:

1g
Sugar:

2g
Protein:

13g