Save time and money in the kitchen by freezing cookies and cookie dough.
Yes, you can freeze both cookie dough and baked cookies.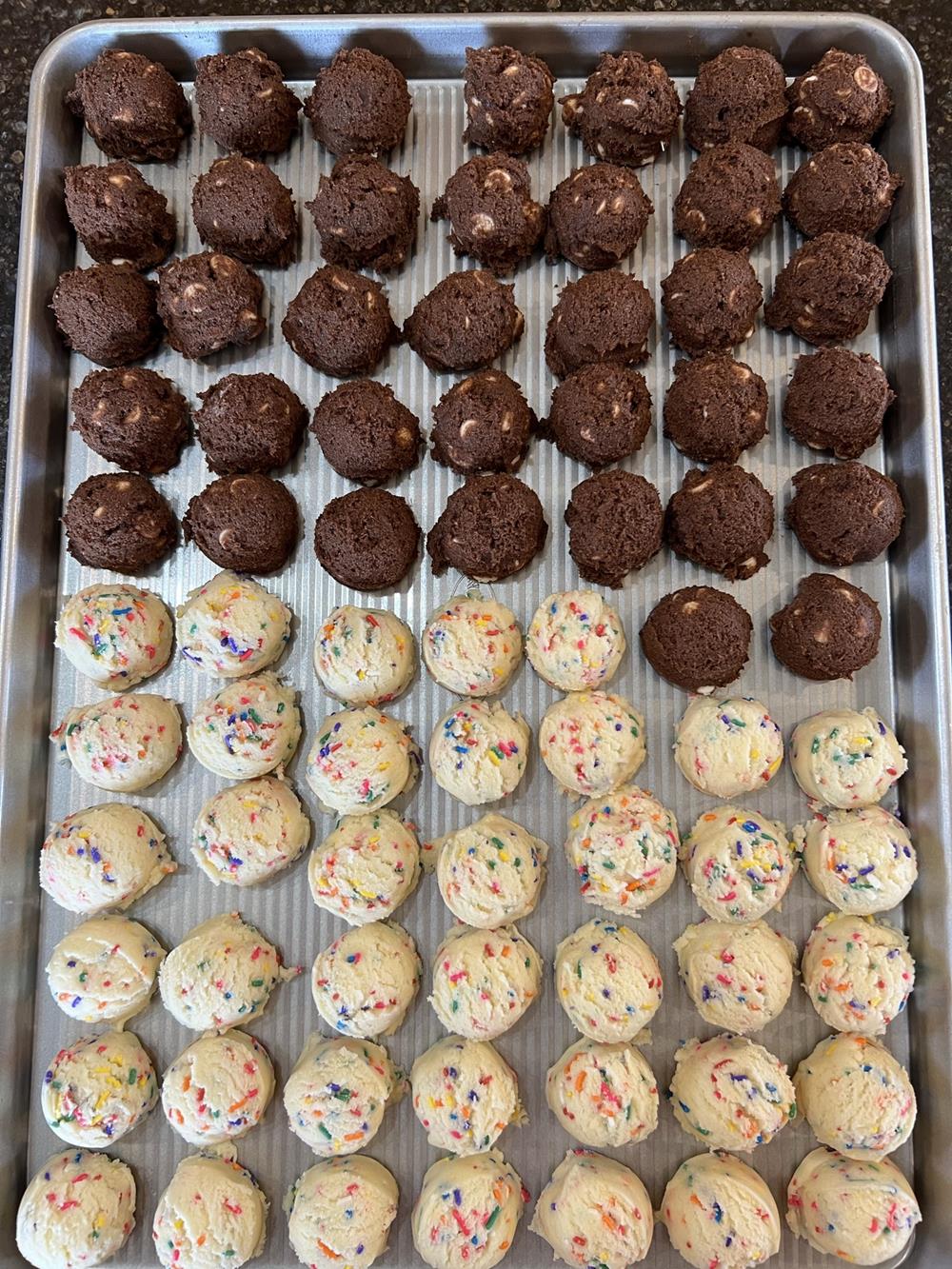 This picture went crazy on recently on social media and I got a lot of questions about how I freeze cookies and cookie dough.
Quite a few people also wanted to know how to freeze gluten free cookies and gluten free cookie dough.
I knew I needed to put together a post on freezing them.
It is no secret that my family loves cookies. Homemade cookies are our favorite.
I freeze both the baked cookies and the cookie dough. It depends on what I think I will use them for.
I love having baked ones in the freezer just to grab a quick dessert. But fresh cookies are so good that I also love to freeze the dough. With the frozen dough, it is easy to bake just a couple of cookies or a couple of dozen.
Freezing Cookie Dough
Let's start with how to freeze the cookie dough.
Make the cookie dough according to the recipe directions.
Drop the dough onto the cookie sheet. You can place them close together since you are freezing them at this point, not baking them.
Freeze.
After several hours or once the dough is hard remove from cookie sheet and place in a zip top type bag.
Squeeze all the air out of the bag and seal it.
Take the number of cookie doughs that you want to bake out of the freezer.
Place them on a cookie sheet for 20 minutes or so. You want them partially defrosted.
Then bake as normal adding on a minute or two longer depending on the type of cookie.
Freezing Cookies
Make cookies according to the directions.
Bake and let cool completely.
Place in zip top type bag.
Defrost when ready to eat.
You can freeze them in a large zip top type freezer bag or in the small snack size freezer bags. I have found the smaller freezer bags works so much better for us.
Why is this working better? The only reason is portion control.
If I don't have a whole bag of cookies on the counter we will not eat a whole bag of cookies.
Why Freeze Cookies?
Sometimes it is the little things that can make a big difference.
So often when it comes to food it is not what we eat, but how much we eat. Portion control can make all the difference. The reality is that if I have a bunch of cookies on my counter I will eat them. And if my kids see cookies on the counter they will eat them.
So freezing either the dough or the cookies in small bags and then putting the small bags into a big freezer bags works so much better.
We can just take out a few cookies to bake or a small bag for a quick snack, lunchbox treat, or dessert and we are not tempted to eat the whole bag of cookies.
Can I Freeze Gluten Free Cookies and Cookie Dough?
Yes, this works great with gluten free cookies and cookie dough.
Follow the directions above for both the cookie dough and the cookies.
The Best Cookies To Freeze
Originally Posted September 2016. Updated November 2022.