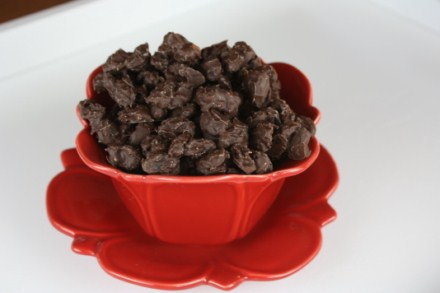 My kids are almost always hungry, especially my eight year old son, so I am always trying to find snacks that are healthy and  inexpensive to make.
Does anyone else have this problem with kids and snacks?
These homemade raisins don't exactly fit into the healthy category, but they are semi healthy, and are better than sitting down to eat a cookie or a handful of potato chips. And although these do make a great snack food, they are often dessert in our house.
This is basically the same recipes as my chocolate covered craisins, but with raisins. You can make them either way, they are both very good and very easy to make.
They are also much less expensive than buying chocolate covered raisins at the store.
Homemade Chocolate Covered Raisins
1  1/2 cups chocolate chips
1 tablespoon butter
12 ounces of raisins
Melt chocolate chips and butter in the microwave, stirring every 30 seconds until the chocolate is melted and smooth.
Add raisins and stir until well combined and mixed together.
Spread out on a cookie sheet that has been lined with waxed paper and refrigerate for several hours or until firm. Remove from the waxed paper and enjoy!
I like the chocolate on these to stay firm so I suggest storing them in the refrigerator, that is if you can avoid eating them all.