Turn oatmeal haters into oatmeal lovers with this Nutella Baked Oatmeal.
This Nutella Baked Oatmeal might be our new favorite baked oatmeal recipe. It is at least in our top three baked oatmeal recipes.
I almost saved this baked oatmeal recipe for the holidays, but this oatmeal was so good that I couldn't wait until the holidays to share it.
The Story
It is no secret that our family loves baked oatmeal. I shared my first baked oatmeal recipe way back way back in 2008.
In 2009 I shared my peanut butter baked oatmeal. Since then I have shared over twenty different versions of baked oatmeal.
Banana baked oatmeal, strawberries and cream baked oatmeal, cinnamon roll baked oatmeal, and more have all become favorites.
Years ago I made my husband and son a baked oatmeal with Biscoff. Biscoff is not gluten free so I rarely make that version of baked oatmeal. However, my Biscoff baked oatmeal is a favorite with readers.
My son recently mentioned that I should make Nutella baked oatmeal. As in my peanut butter baked oatmeal or my Biscoff baked oatmeal, but with Nutella.
I loved his suggestion and knew that I wanted to give it a try.
As I mentioned a few weeks ago, my nut allergy daughter is all grown up. We are now figuring out how to balance a few nuts in the house when she is gone, but keeping it safe when she is at home.
My son has put up with a lot when it comes to all our food issues, so when I knew my daughter would not be eating with us for quite awhile, I gave my son's idea for Nutella baked oatmeal a try.
The results were amazing!
Baked Oatmeal
Baked oatmeal is a cross between a bowl of oatmeal and a dessert. It not mushy, but it is not super firm.
You can scoop it into a bowl or you can cut it into squares. I like to pour a little milk over mine.
It is make ahead and freezer friendly.
It also turns oatmeal haters into oatmeal lovers. I have had so many emails and comments over the years about husbands, kids, family members, and friends that now love oatmeal thanks to my baked oatmeal recipes.
Nutella
This Nutella baked oatmeal is like a dessert. If you are having a houseful during the holidays a pan of Nutella baked oatmeal and a pan or two of another one of my baked oatmeal recipes would be a great breakfast or brunch.
Baked Oatmeal Tips and FAQ'S
For tips on making baked oatmeal ahead, freezing baked oatmeal, and more see my post on making the best baked oatmeal. It also includes all my baked oatmeal recipes.
Ingredients
quick cooking oats
brown sugar
milk
butter
eggs
baking powder
salt
vanilla
Nutella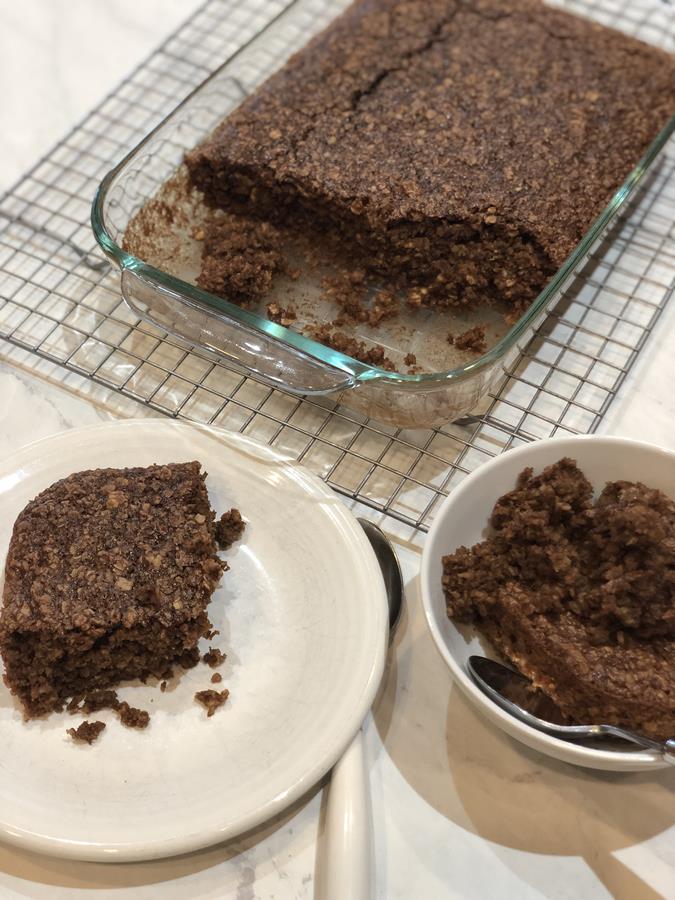 Yield: 8 servings
Nutella Baked Oatmeal
Turn oatmeal haters into oatmeal lovers with this Nutella Baked Oatmeal.
Ingredients
3 cups quick cooking oats or gluten free oats for gluten free version
1/4 cup brown sugar
1 cup milk
2 tablespoons butter
2 eggs
2 teaspoon baking powder
3/4 teaspoon salt
2 teaspoons vanilla
1/2 cup Nutella
Instructions
Preheat oven to 350 degrees.
In a bowl mix together all ingredients until well combined.
Grease a 9x13 pan and spread the mixture into the pan.
Bake for 20-25 minutes. If you like it a little more firm and crunch cook for a few minutes longer.
Serve with warm milk over top or cut into squares.
Nutrition Information:
Yield:
8
Serving Size:
1
Amount Per Serving:
Calories:

295
Total Fat:

11g
Saturated Fat:

7g
Trans Fat:

0g
Unsaturated Fat:

3g
Cholesterol:

57mg
Sodium:

385mg
Carbohydrates:

40g
Fiber:

4g
Sugar:

15g
Protein:

8g
Nutritional values are approximate and aren't always accurate.