Skip the box of mix and make pudding at home! This homemade vanilla pudding without eggs is easy to make with just a few ingredients.
My love of homemade pudding started at a young age. It has always been one of my favorite foods. It has been my comfort food since I was a kid.
However, I did not grow up eating the famous box mix of pudding. We also didn't eat those prepackaged pudding cups. My mom made the real stuff not the prepackaged mix kind.
My mom made almost all our food from scratch. Homemade baked goods and foods were normal at house. Prepackaged, premixed, boxed food were a rare treat.
None of the food we ate were fancy or complicated. My mom cooked simple basic recipes using everyday ingredients that she had on hand.
My mom's recipes are still some of my favorites. Her lemon bars, coconut bars, and pancakes are still recipes that we make all the time.
Homemade pudding is fairly basic to make. I doubt my mom even used a recipe for it, she just made it using milk, sugar, and a few other ingredients that she had on hand.
Most recipes for homemade vanilla pudding contain eggs. Homemade vanilla pudding is basically a type of custard. It contains egg, sugar, milk, vanilla, and a thickener like cornstarch.
I have a homemade vanilla pudding recipe that I love. I shared it years ago. The pictures need updated, but I still love and make that recipe.
Recently though when I was sick I really wanted homemade pudding, but I only had a couple of eggs. I knew that it would be awhile before I made it to the store for more eggs so I didn't want to use them up in pudding.
I decided to see if I could come up with an egg free vanilla pudding.
Some of my best recipes happen this way. Using what you have on hand forces you to get creative.
I did some searching online and in my cookbooks. Almost all of the recipes contained eggs, so I knew I was going to have to just try some things to see if they worked.
The end result was delicious! It was so good. It was not quite as rich and creamy as a pudding with eggs. Without the eggs it was not quite like a custard, but it was still really good.
Homemade pudding without eggs would be great for when you don't have eggs on hand. Or as a way to make homemade pudding less expensive. It is also a great dessert recipe to have on hand for those that can't have eggs.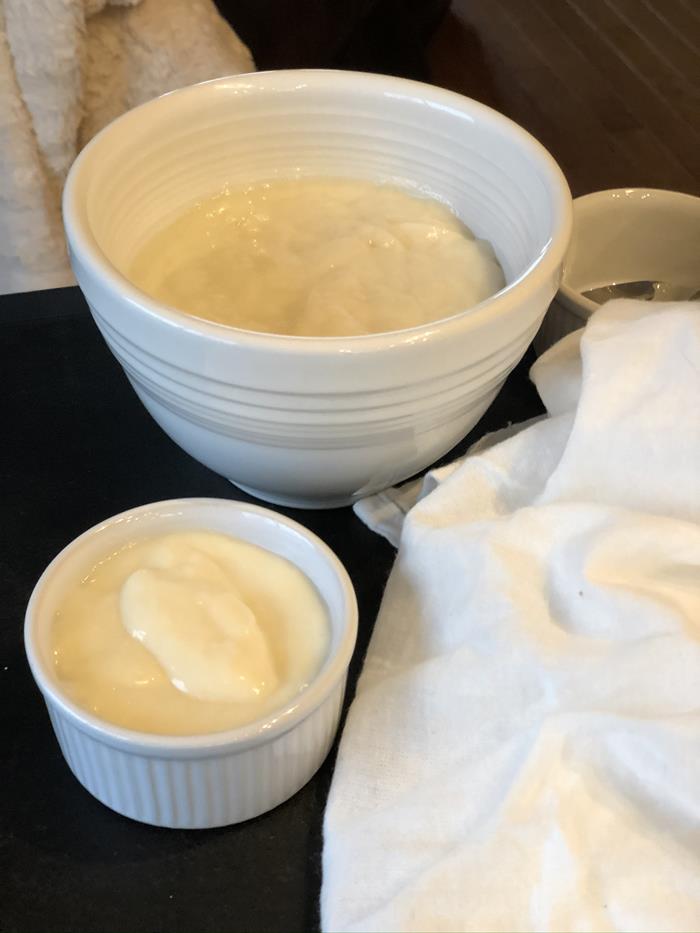 Yield: 6 servings
Homemade Vanilla Pudding without Eggs
Homemade Vanilla Pudding is an easy make at home treat using basic ingredients.
Ingredients
1 3/4 cup milk
3/4 cup cream or half and half (both work cream makes it richer)
2/3 cup sugar
3 tablespoons cornstach
pinch of salt
2 teaspoons vanilla extract
2 tablespoons butter
Instructions
In a pan combine sugar, cornstarch, and salt. Whisk in milk, cream (or half and half).
Cook on medium to medium high heat, while continuing to whisk. Cook until the mixture starts to boil and thicken. You don't need to whisk constantly but you do need to stir or whisk often so that it doesn't burn.
As soon as the mixture boils reduce heat to low. Continue stirring until mixture thickens. This will take 2-3 more minutes. It will thicken more as it cools, but you do want it to be a pudding like texture.
Remove from heat and stir in vanilla and butter.
Pour mixture into individual sized bowls or into a large bowl. Serve warm or cover with plastic wrap pressed directly on pudding to prevent a skin from forming on the top. Refrigerate until serving.