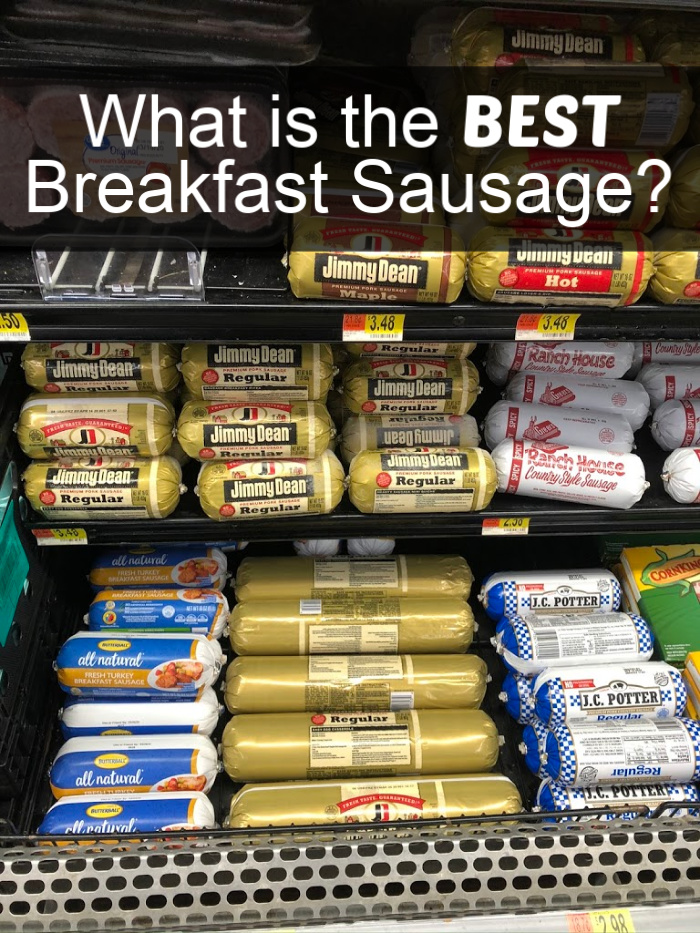 I am going old school today and am asking my readers for help in figuring out what the best breakfast sausage is to buy.
Years go, back in the old days of blogging, I regularly did ask the readers posts. I love to share recipes and cooking tips, but there is still so much that I don't know. And there are so many ingredients and products that I have never tried.
When I needed help figuring out what product to buy, or when I couldn't figure out a cooking problem, I would often turn to you.
When I had a question, or one of my readers had a question, I would ask you for help.
We covered topics like does grass fed beef taste gamey and the best waffle irons. We discussed whether or not it makes a difference if you mix cookie dough by hand instead of with a mixer.
We have shared thoughts on replacements for buttermilk in cooking. You even helped me know how often you should replace running shoes.
We talked about so many things over the years and the comments on those posts are full of information from my readers. Those posts on still some of my favorite posts on the site.
The other day I was searching online to find out what people thought the best breakfast sausage was to buy and I realized I should just ask you.
My readers are the best and they are full of helpful thoughts and tips, so I need your help.
What is the best breakfast sausage?
My quest for the best breakfast sausage might need some background information though.
For years our family raised hogs. Not on a big scale, but we raised a few every year. My husband was extremely picky on what type of pigs we bought. We were also extremely picky on what we fed the pigs. Because of that our meat was so good. It was lean and full of flavor.
We never processed the meat ourselves. We found a great butcher that we loved. The way they butchered and processed the meat was so good. The way they seasoned the hams and sausage was delicious.
We loved having freezer full of pork. We had all kinds of options when it came to pork and I loved cooking with it.
Two years ago though we stopped raising hogs. Or at least we took a break from raising them. We may again in the future, but for now we are not raising them.
Over the last two years I have rationed our pork, especially the different sausages that we had because I knew I would have trouble finding high quality, lean, good tasting, sausage that we would like.
A few months ago I finally ran out of ground breakfast sausage. The kind that comes in a one pound package. Think Jimmy Dean style, but way better.
Since then I have tried quite a few different brands and have struggled to find one that we loved.
We liked the Braum's breakfast sausage, but didn't love it. For those not familiar with Braum's it is an Oklahoma dairy company that is in the OK, TX, KS, area. They have a restaurant/store and sell dairy, and a few meat and grocery type products.
So far we have also tried a few of the main brands that most grocery stores carry. Jimmy Dean is the one I usually end up buying, but again it is not our favorite. Mainly because it has so much fat.
I am used to lean sausage. I don't like all the fat that I have to drain off most of the sausage that I have bought recently.
I am thinking that I need to try a higher end ground breakfast sausage. Maybe one like Costco or a higher end grocery or specialty store might sell.
So now I need your help.
What breakfast sausage do you like? Which brands should I try? What is the best breakfast sausage? Please leave a comment letting me know your thoughts? As I try your suggestions I will come back and share my thoughts on them.